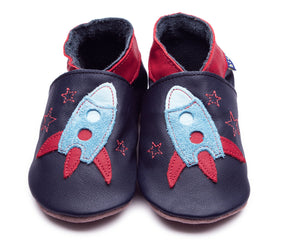 Inch Blue's award winning baby shoes are designed to be the most comfortable, best fitting shoes your infant will ever wear. Our soft soles are made of suede which are perfect for newborns and pre-walkers. For confident toddlers the Gripz range have durable natural rubber soles which are ideal for outdoor adventures too. Inch Blue shoes will take them from cradle to kindergarten seamlessly.
Our cow nappa leather is of the highest quality and very soft and supple. The softness is important so little feet can move freely, without restriction and grow naturally essential for good development.
Handmade ethically in the UK you can be 100% confident that every pair has been tested to the highest standards and safe for toe-suckers.
Benefits
- Soft suede sole or natural rubber sole.
- Elasticated ankle makes them easy to PUT on and STAY on. 
- Because our leather is soft and flexible our shoes are the next best thing to bare feet letting little feet grow naturally.
- Soft soles protect growing feet and also allow pre-walkers to feel the ground underneath them which helps develop a sense of balance and natural movement as they take those first steps.
- Non -slip suede soles ideal for indoor and dry outdoor use.
- Soft breathable natural leather keeps the temperature of baby feet regulated. Cosy in Autumn/Winter and Cool in Spring/Summer.
Genuine Leather
Handmade in Wales. UK
Sizes 0 - 12 (Newborn- Age 5-6)