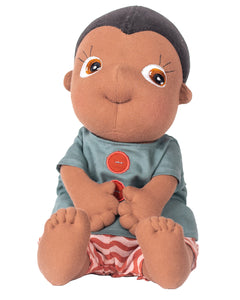 Rubens Tummies is a doll that knows that with comfort & empathy a little extra well & therefore fits perfectly as the child's first friend. Placing a warm Rubens Tummies next to a worried baby can have a calming effect but also cool down in case of fever or a hot summer night, as the wheat pillow, which is easy to take out, can both be heated & cooled. The pillow gives a little extra weight & makes the doll more lively and safe. In addition to recycled polyester, organic wheat and cotton, the doll can of course be washed over and over again. This makes it sustainable and enables it to be a lifelong friend.
Ruben Tummies is caring about the environment
Rubens Tummies are made of Organic Content Standard (OCS) organic cotton. They are filled with Global Recycled Standard (GRS) PET stuffing and their tummies contain weighted wheat bags.