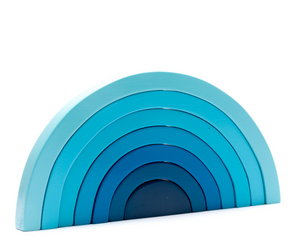 A wooden rainbow toy in shades of blue part of a comprehensive range of fair trade wooden rainbow toys. Ideal for open ended play, these pre-school traditional wooden toys are perfect for stacking, balancing, bridges and tunnels - the opportunities are endless!

Handmade from sustainably sourced wood, this wooden toy is also fair trade.
These wooden toys are safety tested and painted with non-toxic paints.

Please note. these rainbows are handmade so they are not as uniform as wooden rainbows made in a factory. They may not sit flat on the shelf and there may be gaps between the arches. This does not mean its faulty, it means its handmade from scratch so can not be uniform. Each wooden rainbow toy is unique and individual just like rainbows themselves!

Approximate dimensions: 28.5cm x 2.5cm x 14cm
Please note this product is handmade so dimensions can vary and are given as a guide only. Part of a range of sustainable wooden toys.