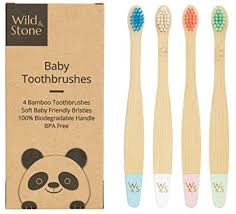 These eco baby toothbrushes have extra-soft bristles, and different colours to ensure they are never mixed up.
The bristles used on the toothbrushes are also vegan and BPA Free - meaning that they are kinder to baby's teeth than traditional plastic bristles.
Product Details:
Age Recommendation: 0-2 years
4 Pack
Extra Soft Bristles
Individually Coloured
100% Biodegradable Handle
BPA Free
Recyclable Packaging
Toothbrush Materials
FSC certified MOSO bamboo, toxin free paint and DuPont Nylon Bristles. Whilst we would love to use biodegradable bristles, the only truly effective plastic free bristle option available right now is boar bristles which is not an option for us as it is not vegan. We continue to research biodegradable bristle options but until a viable option becomes available we will continue to use DuPont Nylon bristles so as not to compromise our customers' oral health.
Care Instructions
Bamboo is a natural product and if it is not kept dry it can develop mould. This is important in bathrooms where it can get warm and steamy. Once your toothbrush has reached the end of its life, pull the bristles out with pliers and compost handle. As it is possible to pull bristles out with force, we do not recommend this product for babies who chew their toothbrushes as bristle shedding may occur. Dentists recommend changing toothbrushes every 3 months