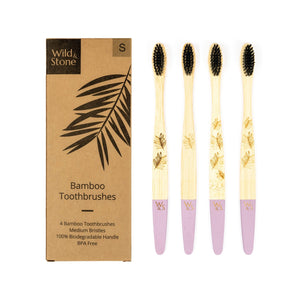 Four ultra-soft bristled biodegradable bamboo toothbrushes in a recyclable, plastic-free box. These toothbrushes are for those with sensitive teeth or gums who need a softer option. This product is not for those who like a thorough brush, this is for those who want to avoid damage during brushing whilst also treating their teeth gently.
In the UK we are disposing of approximately 200 million toothbrushes each year, and each toothbrush can take up to 400 years to degrade!
Help us make a change, try bamboo!
Bamboo is one of the fastest growing plants on earth, meaning there is a sustainable supply of bamboo - and it's also completely biodegradable, meaning that it can be composted or recycled at the end of its life. The bristles used on our toothbrushes are also made from BPA free nylon - which is not only vegan, but is also more gentle on the teeth and gums than traditional plastic bristles.
Our Ultra Soft Bamboo Toothbrushes are ideal for use at home, as well as when travelling - all of our bamboo toothbrushes are individually patterned so they do not get mixed up.
Product Details:
4 Pack
Ultra-Soft Bristles
Individually Patterned
100% Biodegradable Handle
BPA Free
Recyclable Packaging